Ruth Mountain
August 23, 2008
Sometimes things just don't quite work right. A little over a month ago I decided that I'd ski Ruth Mountain in August. I proposed the idea to my father-in-law (Bob) and he seemed interested. We made plans, set the date and then disaster struck. The warmest period of weather hit it's apex the day we had planned to leave and Bob was forced to bail due to a foot/calf problem. The injury was a blessing in disguise since carrying a ski kit over eleven miles in 90+ degree weather would have been completely miserable. We decided that we would postpone for a week. As it turned out, the hot weather was followed by several days of unseasonably cold and rainy weather that brought snow as low as 6500 feet in the Cascades. The weather turned good again just in time for our delayed trip up Ruth Mountain.
We left Anacortes around 6am, just in time to see a beautiful sunrise, a good omen for the day.
The trail begins in the forest but quickly breaks free and after a short distance you are given the first glimpses of Ruth Mountain. It holds a modest little glacier on it's north flank but the deep rocky carvings on the mountain show obvious signs of former glaciers that were much grander in scale.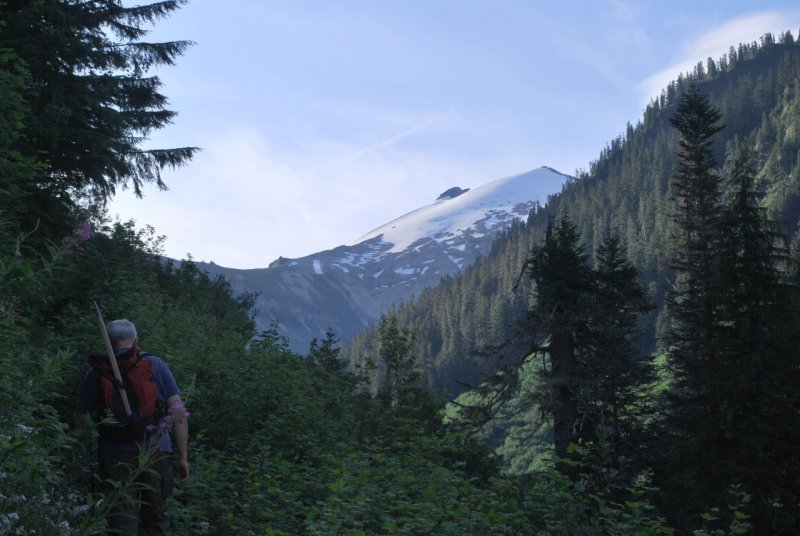 The first sighting of Ruth Mountain
From Hannegan Pass we scrambled up a steep slope and then traversed east around a small peak to gain the ridge that leads to Ruth's summit. The views from the ridge where intense. Mt. Shuksan proved her beauty as she presented us with impressive views of her north side.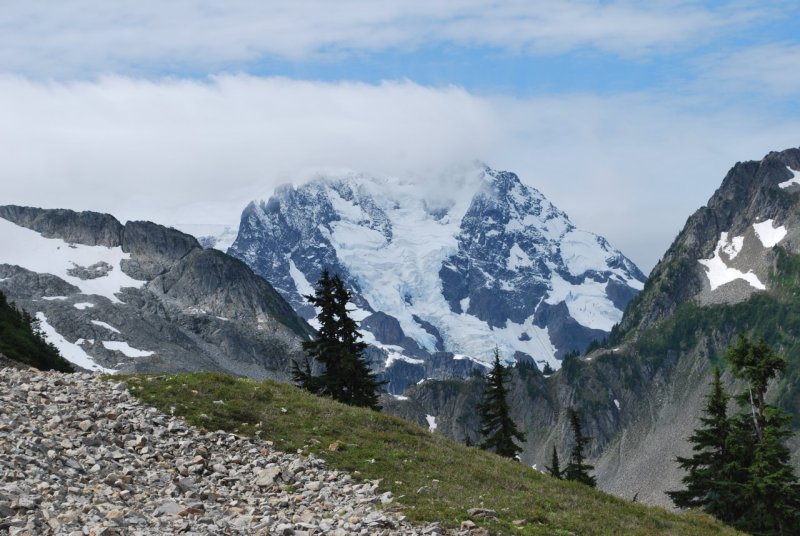 Mt Shuksan is a burly mountain
The alpine flowers were out in full force. In some areas the scents were so overwhelming that it was like being in a perfumery.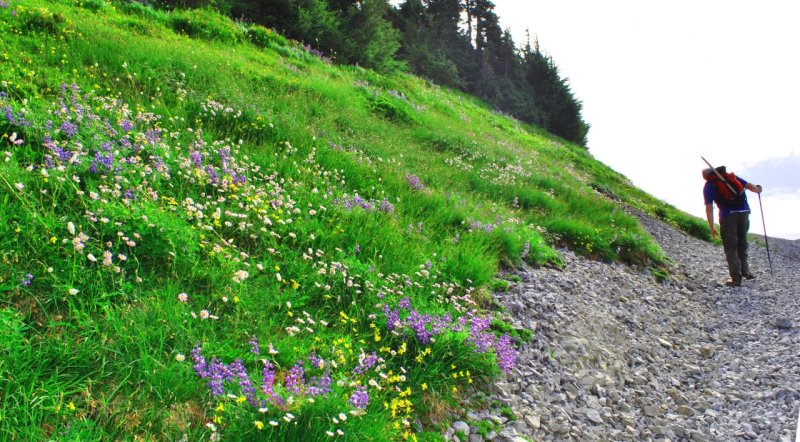 For a large part of the day Mt. Shuksan dominated the skyline and I found it hard to keep it from dominating all of my thoughts.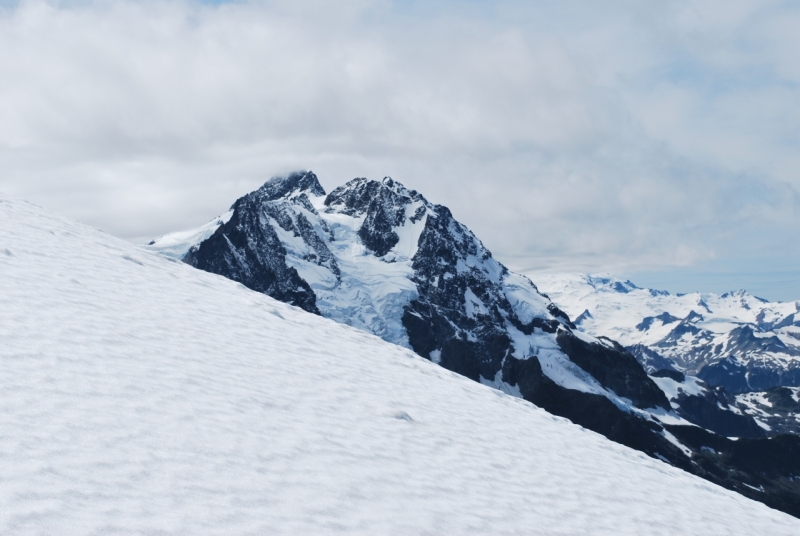 The summit of ruth was a comfortable rock outcrop. The views in every direction where awe-inspiring. I found myself with compass and map in hand trying to figure out the names of all of the peaks on the horizon. Mt. Blum stood proud to the south. Mt. Challenger to the east leading the march of the Picket Range. It was a sight to behold, all of the mountains out in full glory. Even Mt. Rainier could just be made out through the haze 140 miles away.
And then, after hours of struggle, it was time to do what I had come for. It was time to ski.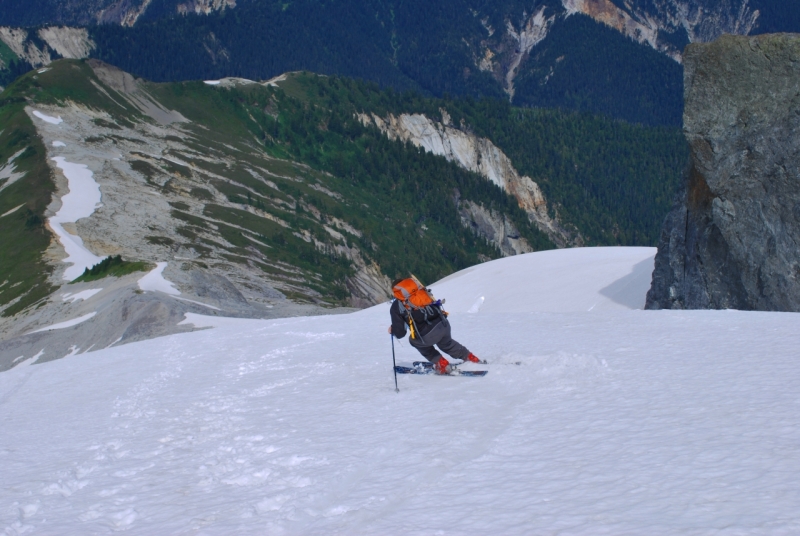 Few things in life taste as sweet as looking up at a mountain and seeing your own ski tracks.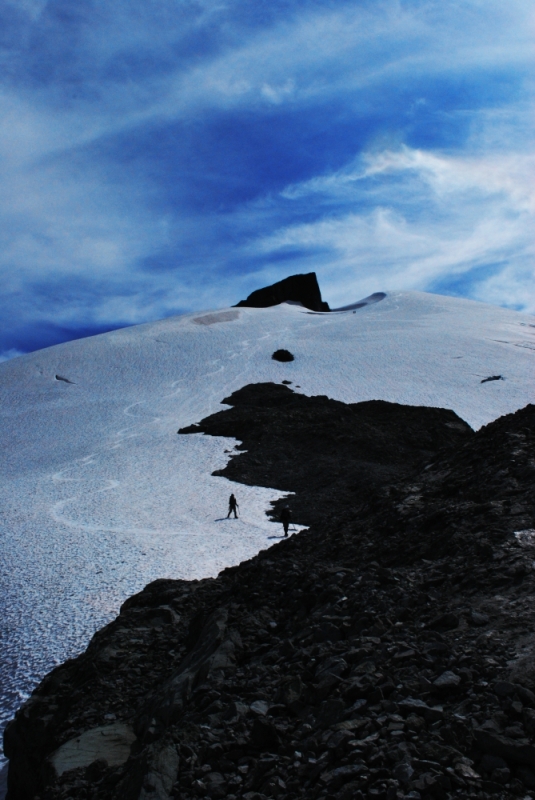 The hike out was long and arduous but as the sun began to set I couldn't help but feel that the accomplishment of climbing another mountain was worth every scrape and scratch and every drop of sweat.